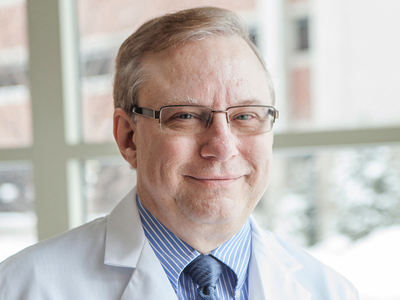 From Broadway to the Berkshires, musician-turned-physiatrist David Grygier finds the smooth notes for patients in pain
"When the opportunity came to join these guys, I really jumped at that."
It was the call of music, not medicine that first drew David Grygier away from his childhood home, the Pennsylvania steel town of Erie. Though many of his friends followed the footsteps of their fathers and grandfathers, proud factory workers toiling to make ends meet in an industry and region that had seen its challenges, he chose a different route.
With talents that qualified him to attend one of the most the prestigious music schools in the nation at the University of Miami, he earned both a bachelor's and master's degree in the field. In the early 1980s, he began what he thought would be a life-long career as a professional trombonist and music educator. He performed behind such luminaries as Burt Bacharach and Melissa Manchester, played in the orchestras for several Broadway plays and joined the national touring company of A Chorus Line.
"But something was missing," he said. Part of it was that he preferred the mood and rhythm of jazz and the intimacy of out-of-the-way nightclubs to the glitz and glamour of 42nd Street. Still, it was more than that. "I needed to do something that truly helped people, something that could actually improve their lives." Having done well in math and the sciences during his 12 years of parochial school in Erie, he turned his eye toward medicine.
By 1986, he completed his pre-med requirements at Brooklyn College, working the jazz clubs at night to pay the bills, and earned his medical degree four years later at the State University of New York (SUNY) Downstate in Brooklyn. He did his residency in physical medicine and rehabilitation at the University of Washington Medical Center in Seattle, one of the top facilities in the nation in that field. From there, he came directly to the Berkshires, where he practiced privately for 20 years and joined Berkshire Orthopaedic Associates in 2014.
"When the opportunity came to join these guys, I really jumped at that," said Dr. Grygier. "This is one of the best orthopaedic practices anywhere, and I knew my many years of experience as a rehabilitation physician would be put to good use here."
Physiatrists, or rehabilitation physicians, are nerve, muscle and bone experts who treat injuries and illnesses that affect movement. They are medical doctors who treat everything from sore shoulders to spinal cord injuries. Working alongside orthopaedic surgeons, they focus on comprehensive programs to ease or eliminate pain and restore movement without surgery. In addition to physical therapy, physiatrists may use physical agents such as light, heat, water, electricity, mechanical apparatus and localized drug injections to treat conditions.
Dr. Grygier's well-trained ear for the nuances of music has served him well in his diagnosis of patients.
"I listen very closely to what the patient tells me," said Dr. Grygier. "What they tell me often steers me toward the diagnosis even more than the physical examination, the x-rays and the MRIs. Those are important tools, but they're just pictures. You have to go deeper. You have to listen to every note."
When he's not treating patients, Dr. Grygier enjoys life in the musical Berkshires. He lives in Lenox with his wife Susan, a hospice nurse, and their daughter Alaina.