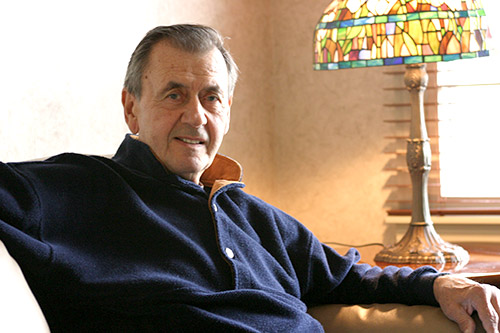 "I'm not the type of person you're gonna hold back."
Thomas Marley, Patient
For thirty years, Thomas Marley sold produce for Adams Market, a small regional chain since absorbed by Big Y. "Working in a supermarket, you're constantly flying," he recalls. "You've got to go unload a truck. You've got to get to the counter. The guy throws you a ten-pound bag of potatoes and then another and another. But I never missed a day of work." After his retirement, Tommy kept active, too, playing racquetball five nights a week.
Then, at age sixty, he realized he could no longer ignore the pain in his right knee  "I had kind of let it go, saying 'Maybe it'll be alright.' But I went to see Dr. DeFelice and he took X-rays. He told me, 'Tom, the problem with your knee is it's bone-on-bone.'"
The news he would need a knee replacement was a shock. "I'd never been in the hospital in my whole lifetime. It was a little scary when they said they were going to take my knee and throw it in the garbage can." But in August 2002, Dr. Anthony E. DeFelice performed a full knee arthroplasty.
Marley remembers saying to himself the day after surgery, "Tommy, that's a new knee you got there, and the only way you're going to get better is to get walking." He reports experiencing little pain with his rehabilitation, but Dr. DeFelice did have a warning for him. "He said to me, 'Tom, down the road, you may have a problem with the opposite hip because you went so long favoring the knee, which puts the pressure on that hip, wearing that down.'"
The prediction proved to be correct and, four months later, Marley had a second operation. The replacement on his left hip went as smoothly as the knee arthroplasty had, but he still wasn't finished. A bit more than two years later, a persistent pain in his right hip sent him back for a consult. "Dr. Defelice said that hip was gone, too."
Today Tommy Marley happily demonstrates the ease with which he pops up from his chair. "No, I shouldn't cross my legs anymore," he admits, "and I don't lift up heavy objects. No more racquetball, either. But I ride my bike and I've started swimming again and I do nautilus at the Y three nights a week."
Along with his wife, Tom Marley lives in Pittsfield, as he has all his life. A granddaughter (first name: "Marley") lives nearby and he speaks of her with pride. Despite his three artificial joints, Marley approaches life with the same zest he brought to the grocery business. "I'm not the type of person you're gonna hold back," he explains.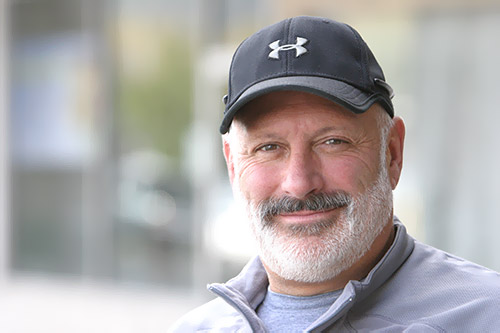 "I was up and walking the next day."
Mark Reynolds, Patient
For Mark Reynolds, sports are a way of life. He was a three-season athlete at Pittsfield High and went on to play baseball at Hudson Valley Community College. He continued to hold down the shortstop position on his softball team until well into his thirties, when he took up running, competing in marathons and "The Josh," Berkshire County's own Josh Billings RunAground Triathlon. Reynolds fashioned his passion for athletics into a career, too, as owner of Reynolds Team Sales, a sporting goods business that seeks, as Reynolds says, "to get athletes the things they need to perform at their highest level."
As he reached his mid-fifties, Reynolds found his own performances becoming more painful than pleasurable. At first, he thought the cause was a knee problem, but in October 2006, Dr. Herbert Boté spotted arthritis and other signs of deterioration in his right hip. "He told me I could do anything I wanted," Reynolds remembers. "But I went to Florida in February to play golf and I couldn't get set up over a drive or a putt. My hip was killing me. When we got back, I went to see Dr. Boté. After taking another X-ray, he laughed and said, 'I know why you're here.' Two weeks later, I had a new hip."
A barrel-chested man with a balding pate that's often obscured beneath a baseball cap, Reynolds remembers the entire experience in detail. First, he did his homework. "Baby boomers always have to know more than the next person. My new hip is a Zimmer polyethylene insert," he says proudly. "I went in to see Dr. Boté with about twenty questions."
After the procedure, he recalls, "The nurses were fabulous, helping me manage my pain level. The physical therapy people had me up and walking the next day." After four nights in the hospital, he went home and just a week after the surgery, he started rehabilitation. "I did the work religiously, exercising three times a day."
Married thirty years and the father of two grown children, Reynolds still resides in Pittsfield, as he has all his life. Once again, the aging athlete is back in the competition. "I told them I wanted to play in the Boys and Girls Club Alumni Tournament. They got me there-and my team came in fourth. I can golf with pleasure now. I'll play tons more golf next year and spin more on the bike. I'll paddle much more, too-I'm going to buy a new kayak." Reynolds' inner athlete, despite the passage of years, is still alive and well and pursuing his passions.