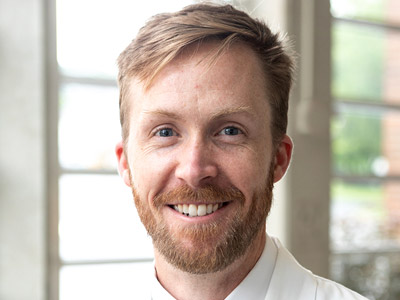 Areas of Expertise
Comprehensive fracture care
"Restoring someone's mobility or functionality is really an awesome experience"
People are not a combination of body parts defined by their disease or injury. "I prefer to connect with patients on a humanistic level, which gets at the very core of medicine," said Orthopaedic Surgeon Ashley Miller, MD. "My goal is helping patients achieve a degree of functionality that is better than what they had before care, so that they can lead healthier and pain-free lives."
To that end, Dr. Miller describes himself as a generalist in the area of orthopaedics, who enjoys fixing fractures the most. But like many surgeons, Dr. Miller said that procedures that make an immediate difference on an individual's quality of life are particularly gratifying.
"Restoring someone's mobility or functionality is really an awesome experience," he said. "Maybe it's because I'm such an active person myself."
Dr. Miller grew up in Vermont, where he loved the mountains and all of the recreational activities that the rural state offers.
A magna cum laude graduate of Middlebury College, Dr. Miller earned his medical degree from the University of Vermont College of Medicine, and completed his orthopaedic surgical residency at the University of Cincinnati.
Now in the Berkshires, Dr. Miller is surrounded by mountains once again, and is reveling in the many opportunities for trail running, mountain biking, skiing, and hiking with his dog.
In addition to the abundant nature, Dr. Miller was attracted to Berkshire Medical Center's list of awards for excellent patient outcomes in orthopaedic surgery, as well as its record for providing excellent geriatric fracture care. "As orthopaedic surgeons, we have the ability to provide great patient outcomes here."
Dr. Miller is married to Margaret Gordon-Fogelson, MD, an obstetrician-gynecologist with Berkshire Ob-Gyn. The couple live in Lenox.