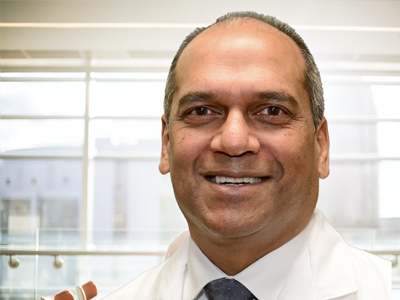 Areas of Expertise
Coming soon
"Orthopaedic surgery is a team sport. It requires close collaboration between the surgeons, the entire clinical team and the patients themselves."
Khaled "Kel" Instrum has always been a team player, whether he was playing hockey, football and other sports during his days growing up in Canada, or in his multi-decade career as an orthopaedic surgeon, restoring precious mobility and functionality to the shoulders, knees and other joints of thousands of grateful patients.
Dr. Instrum joined the team at BOA in 2022 after serving 12 years at Holyoke Medical Center. He is board certified in orthopaedic surgery and was fellowship trained in shoulder and knee surgery at the University of Calgary, where he also completed his residency. He received his medical degree from Dalhousie Medical School, Halifax, Novia Scotia.
Dr. Instrum comes from two different New Brunswicks: born in New Brunswick, N.J., raised in the Canadian province of New Brunswick. While his Bangladesh-born parents both had strong scientific pedigrees – his father was a professor of biochemistry, his mother held a master's degree in chemistry – he "never felt pressured" to go into a scientific field, although the "expectation was very clear" that he would "work hard, be independent and make difference in the world."
He eventually set his sights on medicine, and was particularly drawn to orthopaedic surgery. His own life-long experience with team sports – and the inevitable strains and pains that come with it – convinced him he could serve that need well.
"Orthopaedic surgery is a team sport," said Dr. Instrum. "It requires close collaboration between the surgeons, the entire clinical team and the patients themselves. We're all in this together." Dr. Instrum was drawn to Berkshire Orthopaedics by that team mindset. "Everybody's on the same page. The surgeons, the physician assistants, the medical assistants, the front desk. Everyone from the hospital to the operating room to the physical therapy team. We're all moving in the same direction."
Again, he underscored the importance of patient involvement. "In the end, the patients we work so hard with are responsible for their own rehabilitation."
Dr. Instrum doesn't view himself as a saver of lives, but as an improver of lives.  "I don't save anybody's life, but I do make people's lives better."
Patients today have different expectations than they once did, particularly as they get older, said Dr. Instrum. "People want to be active and alive, long after they retire. They don't want to be sitting on their behinds in the back yard. They want to ski and hike and golf and be outdoors in the Berkshires. They want to appreciate life." Orthopaedic surgery, he said, is one way of preserving that lifestyle for many years.
Dr. Instrum happily commutes to Pittsfield every day from his home in Granby, where he still has a 12-year-old in school.  Of his three older children, who now live in different states, one is a financial planner, another is a physician assistant, and the other is in residency as an ear, nose and throat doctor.