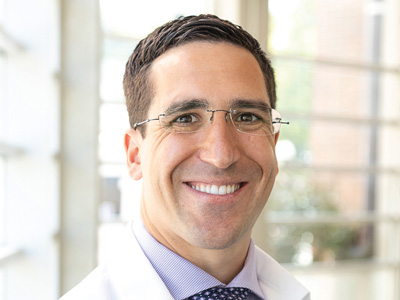 Areas of Expertise
Hand, Elbow, and Wrist Surgery
Fracture Care
Easing pain and restoring function of the hand and elbow — "There is high-quality care going on here."
If you can't use your hands, you can't interact with the world. Matthew C. DeWolf, MD, came to understand the significance of that fact during an orthopaedic rotation in his third year of medical school, where he was struck by the intertwining of science, anatomy, physiology and bio-mechanics. He was particularly fascinated by how these four areas could factor in treatments or surgery to ease pain and restore function in the hand.
"Whether you are a laborer, a farmer, work in IT, business – or any profession at all. It doesn't matter. You need your hands. They are integral to functioning in life," he said. "If you have a traumatic or degenerative injury of the hand, it can have a devastating physical and emotional impact on your life."
Thus, Dr. DeWolf decided to become an orthopaedic surgeon who specializes in the upper extremities. This involves advanced training in the care and treatment of such hand conditions as carpal tunnel syndrome, trigger finger, tendinopathies, and dupuytren's contracture, as well as tennis elbow, golfer's elbow, cubital tunnel syndrome, arthritis of the elbow, wrist, fingers, and more. He is also trained to treat fractures, tendon injuries, nerve injuries, and complex traumatic injuries of the hand and elbow. All can be highly-painful conditions that impact quality of life.
"I'm able to take my patients' symptoms and concerns and put them together with their X-rays or other diagnostic imagery, and come up with a treatment plan that will help them get better," he said. "Surgery is not always the first option; there are often other ways to treat these conditions.
It's important to have a thorough conversation with each patient and together, we decide on the best treatment for them."
Born and raised in Pittsfield, Dr. DeWolf played youth sports and was on the football and baseball teams at Pittsfield High School. He was on a pre-med track at Boston University, and earned his medical degree at the University of Massachusetts Medical School. He completed a residency in Orthopaedic Surgery at Dartmouth. He then completed a Hand and Upper Extremity Fellowship at the Philadelphia Hand and Shoulder Center, learning advanced surgical and non-surgical treatments.
While in medical school and in residency, Dr. DeWolf earned several awards and honors, including Resident Teacher of the Year, the Emerging Leader award, and the Community Engagement award. This last award was earned as a result of being one of three medical students who created WooFood – a certification system for restaurants that encouraged healthy options. The initiative grew into the WooFood Corporation a 501(c)(3) non-profit.
Now that he's back in his home town, Dr. DeWolf hopes to become an engaged member of Berkshire civic life.
"I've always wanted to help people and live in a place where I could both take care of patients and be an active participant in the community," he said. But above all, Dr. DeWolf said he wanted to join a practice that offered the very best in orthopaedic care.
"I interviewed at other places but none of them offered patients the level of care that Berkshire Orthopaedic Associates provides," he said. "There is high-quality care going on here."
Dr. DeWolf is married to Kate DeWolf, CNM, a nurse mid-wife at Berkshire Ob-Gyn. The couple have two young children.